Cheap WWE Backlash Tickets
WWE Backlash is a professional wrestling pay-per-view event conducted by WWE and is a professional wrestling promotion based in Connecticut.
Want to get cheap WWE Backlash tickets? We have WWE Backlash tickets discount coupons available. You can use discount coupon code WWE-3 on checkout page and get 3% special discount on WWE Backlash tickets cheap. WWE Backlash live seating plan / venue map is also available on tickets selection page. Select your seats and watch WWE Backlash live.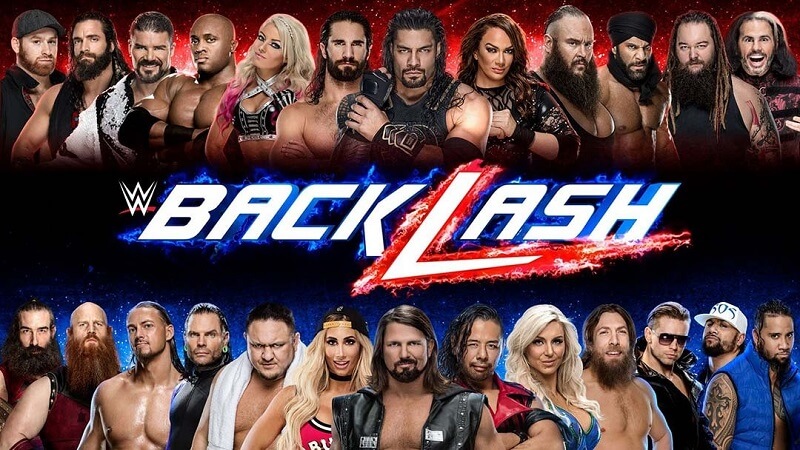 WWE Backlash Highlights
WWE Backlash event ticket prices may vary depending on several factors. WWE Backlash meet and greet tickets offer dozen of fantastic deals for live entertainment that create an atmosphere of Power, Thrill, and excitement. Cheap WWE Backlash tickets 2023 start from $25 to $1000. Buy discount tickets for WWE Backlash Wrestling and have a great chance to see the world's wrestling entertainment battle live. WWE Backlash Front row tickets are higher in price with better value.
All About WWE Backlash
It was first established in 1999 accompanied by its introductory event produced as an In Your House Event, it took place on April 25, 1999 and aired live on PPV. Backlash was the 28th and the final event to be established under In Your House category.
In year 2000 the event was branded as an annual pay-per-view event for WWE. In year 2004 the backlash event was privatized as RAW Brand to eventuate with the brand extension. In 2007 following WrestleMania format all Pay-per-view events converted to tri-branded between RAW, Smack Down and ECW. In 2010 Backlash was replaced by Extreme Rules.
WWE Backlash returned as a SmackDown exclusive in 2016 as post SummerSlam event, after the freshly reestablished WWE Brand Extension. In the year 2017 the Backlash still being exclusive to SmackDown returned to being post-WrestleMania pay-per-view event corresponding with RAW's Payback event. It was announced this year that the WWE Backlash will be a Dual Brand event.
Backlash consists of a main event and undercard of championship matches and many other wrestling matches. Backlash Events have been held in an indoor arena every single time with twelve of them taking place in the United states and one event took place in Canada.
Following are WWE Backlash events
Backlash
Date: April 25, 1999
Venue: Providence Civic Center
City: Providence, Rhode Island
Game: Stone Cold Steve Austin vs The Rock
Winner: Stone Cold Steve Austin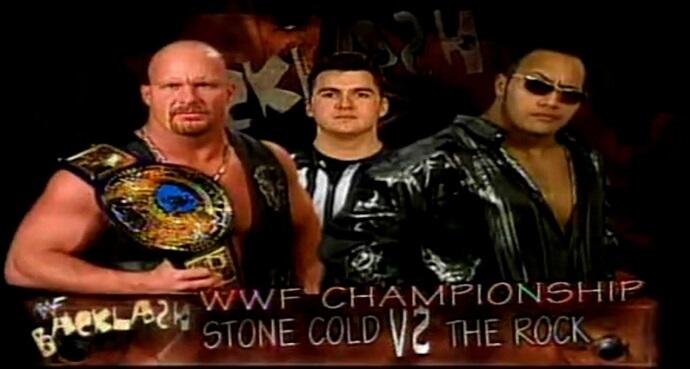 Backlash 2000
Date: April 30, 2000
Venue: MCI Center
City: Washington, D.C.
Game: Triple H vs The Rock
Winner: The Rock
Backlash 2001
Date: April 29, 2001
Venue: Allstate Arena
City: Rosemont, Illinois
Game: Stone Cold Steve Austin and Triple H vs Kane and The Undertaker
Winner: Stone Cold Steve Austin and Triple H
Backlash 2002
Date: April 21, 2002
Venue: Kemper Arena
City: Kansas City, Missouri
Game: Triple H vs Hulk Hogan
Winner: Hulk Hogan
Backlash 2003
Date: April 27, 2003
Venue: Worcester Centrum
City: Worcester, Massachusetts
Game: Goldberg vs The Rock
Winner: Goldberg
Backlash 2004
Date: April 18, 2004
Venue: Rexall Place
City: Edmonton, Alberta
Game: Chris Benoit vs Triple H vs Shawn Michaels
Winner: Chris Benoit
Backlash 2005
Date: May 1, 2005
Venue: Verizon Wireless Arena
City: Manchester, New Hampshire
Game: Batista vs Triple H
Winner: Batista
Backlash 2006
Date: April 30, 2006
Venue: Rupp Arena
City: Lexington, Kentucky
Game: John Cena vs Edge vs Triple H
Winner: John Cena
Backlash 2007
Date: April 29, 2007
Venue: Philips Arena
City: Atlanta, Georgia
Game: John Cena vs Shawn Michaels vs Randy Orton vs Edge
Winner: John Cena
Backlash 2008
Date: April 27, 2008
Venue: 1st Mariner Arena
City: Baltimore, Maryland
Game: Randy Orton vs Triple H vs John Cena vs John Bradshaw Layfield
Winner: Triple H
Backlash 2009
Date: April 26, 2009
Venue: Dunkin' Donuts Center
City: Providence, Rhode Island
Game: John Cena vs Edge
Winner: Edge
Backlash 2016
Date: September 11, 2016
Venue: Richmond Coliseum
City: Richmond, Virginia
Game: Dean Ambrose vs AJ Styles
Winner: AJ Styles
Backlash 2017
Date: May 21, 2017
Venue: Allstate Arena
City: Rosemont, Illinois
Game: Randy Orton vs Jinder Mahal
Winner: Jinder Mahal
Backlash 2018
Date: May 6, 2018
City: Newark, New Jersey
Game: Roman Reigns vs Samoa Joe
Winner: Roman Reigns
Backlash 2020
Date: June 14, 2020
City: Orlando, Florida
Game: Edge vs Orton
Winner: Randy Orton

Get cheap WWE Backlash Newark Tickets from Tickets4Wrestling.com